a special holiday pairing
Le Trou Champenois is enjoyed as a palate cleanser and refresher between courses of a long celebratory meal in France.  Grapefruit sorbet served with Champagne Rosé, or, Lemon or apple sorbet served with Champagne Brut.   
An authentic and delicious culinary experience that we think is perfect for Thanksgiving!  Thank you to Delphine Colin of Champagne Colin for sharing this oh so fabulous part of French culture with us, we hope you love it.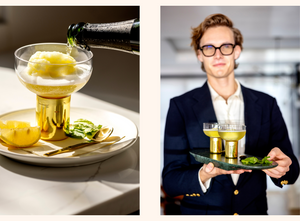 Martha Stewart has a wonderful grapefruit sorbet recipe if you are inclined to make it youself (maybe leave out the black pepper!)  Although Le Trou Champenois Rosé is typically served with grapefruit sorbet it can be a little harder to find in the US, so we tried Talenti Raspberry sorbet with Rêveuse Rosé and it was exceptional.  We also love Sharon's lemon sorbet with Rêveuse Champagne Brut. Be sure to select a natural option to avoid any too sweet corn syrup.
Plan to take your sorbet out of the freezer 30 minutes before you serve so that you can scoop it nicely. These glamorous gold coups or small dessert cups work perfectly for serving along with petite spoons.
Serve as you would an affogato, so when guests are ready bring the sorbet in coups to the table and pour the Champagne on top for immediate enjoyment.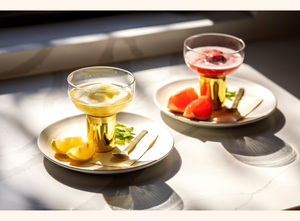 Order now to have Champagne Rosé and Champagne Brut on hand over Thanksgiving.