MEET THE MAKERS: DELPHINE COLIN
I'm so pleased to introduce to you Delphine Colin, the co-owner at Champagne Colin.  
For seven generations, the Colin family has grown grapes for luxury houses and cooperatives. Twenty years ago, she, along with her husband and brother-in-law, made the commitment to bottle their own Champagne. They started slowly, continuing to sell grapes to other brands while refining their winemaking techniques. Today, 100% of their grapes go into their own bottles, and Delphine is the first woman in a leadership role at Colin. 
When I first tasted Delphine's blanc de blanc Champagne, she smiled as my eyes lit up with excitement: I'd been tasting Champagnes for two decades, but I found hers to be exceptionally unique and exciting. Our partnership was born. 
—April Siler
What do you love most about your Champagne?
We make such a wide variety of Champagnes — richer vintages that capture the essence of the terroir — but my personal favorite is our NV Brut. Simple, elegant – we can drink it any time of day with any meal. Also, my Champagne has lots of fine bubbles!  When I drink other brands of Champagne, I notice they don't have as many.  
Which foods pair best with Champagne?
We love to travel and enjoy fresh, spicy foods; many people only prefer French cuisine, but my husband and I love to discover other sensibilities and we really appreciate Asian and Caribbean foods. Champagne pairs well with any food, really.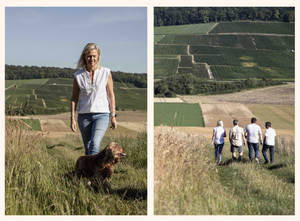 What does biodynamic farming mean to you?
We have the HEV (High Environmental Value) certification for our Champagne grapes and all of our land: My son also farms wheat and corn.  All Champagne grapes must be hand-harvested. This is the rule in Champagne, but the HEV certification is above and beyond the rules of Champagne to make sure we are caring for the terroir that has been in our family since the 18th century.  
What are you most proud of at Champagne Colin?
We are so proud to make people happy when they drink champagne. We really want to offer you the best of what the terroir can give us. And when we see your eyes with stars, we know that our goal is achieved. And sending our champagne all over the world making lots of people with eyes shining is our greatest gift.
Anything else you would like to add?
In our Family Estate, there is a timeless, priceless legacy that we want to take the utmost care of so we can pass it onto future generations.   Our children, Justin and Edgar and Romain's little boy, my nephew, Milo are the future of the company. Justin already runs the farm side of the business and is following in his family's footsteps in winemaking, fueled by the same love for the land.