a luxury experience that is truly sustainable
While Champagne is one of the world's most beloved beverages, in the increasingly consolidated world of luxury Champagnes, grower producers don't get the recognition they deserve. At Rêveuse, we see championing these small family farmers as a way to support the sustainability of craft winemaking in this historical region.
Our Champagne is made using farming methods certified by France's HEV (High Environmental Valuation) organization. This more natural approach favors taking care of the plants and soil, supporting biodiversity in the vineyard and limiting the amounts of chemicals used. Ten percent of the vineyards we work with are certified organic.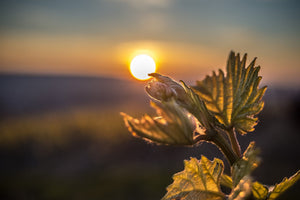 Packaging
Our shipping box and insert might not be much to look at, but we took care to choose ones made from 100% post-consumer recycled paper that can be recycled or composted. Our glass bottles are 100% recyclable. Our bottle label is made from the highest quality, 100% organic cotton, certified by the Forest Stewardship Council.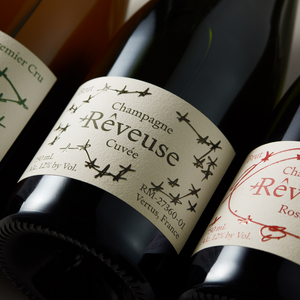 Shipping
Champagne can only be made in Champagne, France, so there's no way around it: We have to ship. We've opted for ocean freight, an extremely efficient mode of transport that requires less carbon to ship our bottles from France to the U.S. than it does to truck domestically produced wine across the States!