Fennel & Cabbage Citrus Salad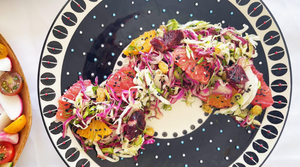 Ingredients:
Salad
¼ cup mint minced
1 fennel bulb, shaved thinly shaved
⅓ cup fennel fronds diced 
¼ red cabbage thinly sliced
¼ green cabbage thinly sliced
1 satsuma peeled and sliced 
1  grapefruit peeled and sliced
Dressing
1 navel orange, juiced
1 lemon, juiced
¼ apple cider vinegar
1 tbsp raw sugar
1 tbsp salt
1 tsp cayenne pepper
Rum Raisins
½ cup golden raisins
1 cup dark rum 
¼  cup sugar
Method:
In an airtight jar mix raisins, sugar and rum. Allow to marinate in the fridge overnight.
In a large salad bowl, combine the fennel, cabbage, mint, fronds, and raisins 
Whisk together the lemon and orange juice, apple cider vinegar, raw sugar, salt and cayenne pepper in a bowl, and stir in the olive oil. Pour the dressing over the salad, and toss to combine. Allow salad to marinate for 10 minutes, add slices of citrus. 
Serve on your favorite platter.