Crudités with Herbed Chutney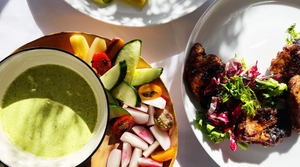 Ingredients:
Vegetables
1 ½ cups cherry heirloom tomatoes, halved
2 Persian cucumbers, thinly sliced and halved
5 pieces of french radish, sliced into quarters
1 cup baby heirloom carrots
Herbed Chutney
1 cup mint, diced 
1 cup parsley, diced 
1 cup Yogurt
3 tbsp of lime juice
1 tablespoon salt
Method:
In a blender combine lime juice, yogurt, mint, parsley, and salt. Blend until smooth and green. Pour into a small serving bowl.
On a serving platter, place the bowl of chutney off centered, then add tomatoes, cucumbers, radish, cheese, olives and carrots surrounding the bowl.  Then serve!