Chilled Salmon with Scotch Bonnet Pesto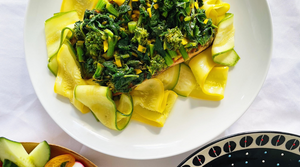 Ingredients:
Salmon
2-3 lb salmon
1 lemon charred and juiced
1 tablespoons sea salt
1 tablespoon black pepper 
¼ cup canola oil
Summer squash
1 yellow squash, thinly sliced
1 green squash, thinly sliced
2 lemons juiced 
1 tablespoon sea salt
1 tsp black pepper
⅓ cup olive oil
Broccolini & Beets
1 bunch Broccolini diced
1 golden beet, diced
2 tsp sea salt
2 tbsp olive oil
Pesto
1 cup dill diced
1 cup parsley diced
2 tsp salt
¼ cup sesame seeds
¼   cup olive oil
Method:
In a non-stick pan, heat canola oil at medium high heat. 
Combine salt and black pepper in a small bowl. Wash and pat dry salmon, then coat salmon on both sides. Marinate for five minutes. Place salmon into the heated pan, skin side down. Allow salmon to fry until golden brown around the edges for 6 mins then carefully flip and cook for 4 mins. Remove from heat, allow the salmon to rest and cool.
Heat a small sauce pot with 1 cup of water until it boils. Add broccolini to cook for 2 minutes. Remove from heat, rinse with cold water and strain. Then combine broccolini,  golden beets, salt, lemon juice and olive oil.
In a blender combine dill, parsley, sesame seeds, salt, and olive oil. Blend until smooth. 
In a large salad bowl, squash, salt, pepper, olive oil and lemon juice. Gently toss, then rest for 10 minutes until soft
Serve on a large dinner plate or platter:
Place summer squash salad around the edges of the serving platter. Then place the salmon on the center of the platter. Coat salmon with a layer of pesto and broccolini and golden beet mix. Finish with squeezing charred lemon juice.