Taste luxury
We partnered with Murray's Cheese to create a delicious Champagne and Cheese pairing experience for you to recreate at home.
Pairing 1: Rêveuse Brut Cuvée with Toma from Point Reyes Farmstead Cheese Company
Rêveuse Brut Cuvée is perfectly balanced and well rounded to be enjoyed any time of day.  It pairs brilliantly with this creamy and versatile cheese.  Toma in Italian means 'made by the farmer themselves' and Rêveuse is certified Recoltant Manipulant 'grower produced' - you can taste the superior quality of these two artisan delights.
Pairing 2: Rêveuse Premier Cru Blanc de Blancs with Clothbound Cheddar from Cabot Creamery at Jasper Hill Farm
Rêveuse Blanc de Blancs 100% Chardonnay is made by the Colin family in Vertus in the Côte des Blancs (where Chardonnay grows best).  In this most pure expression of the region you get a crisp and acidic yet creamy taste experience.  The Champagne's low dosage allows a hint of the salt characteristic of the region to come through, pairing beautifully with this complex and sharp Cheddar from Cabot Creamery.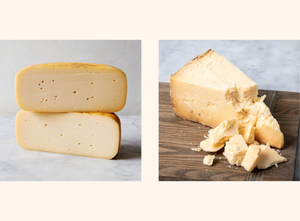 Pairing 3: Rêveuse Premier Cru Blanc de Blancs with Caveman Blue from Rogue Creamery
Caveman Blue from Rogue Creamery has a moist fudge like texture with delicious earthy notes of the forest and a moderate 'blue' flavor.  Its richness also pairs fantastically with the bright acidity and subtle salinity of our Blanc de Blancs for a memorable taste experience.  
Pairing 4: Rêveuse Premier Cru Rosé with Vermont Creamery Goat Cheese
Vermont Creamery Goat Cheese is mild and fresh, pairing perfectly with Rêveuse Rosé that leads with notes of raspberry and strawberry.  Rêveuse Rosé is made from 85% Chardonnay, its crisp brightness is harmonious with the freshness of the Goat Cheese - and with 15% Pinot Noir bringing red fruits and a hint of orange blossom to finish.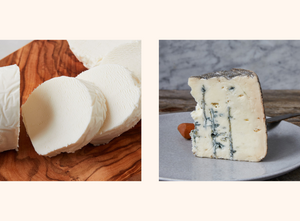 Receive 10% off Rêveuse and selected Murray's Cheese with code: REVEUSE10 
And for Crackers?
What crackers are worthy of such a delicious event?  Allow us to recommend Moonshot Snacks, made from heirloom wheat and sunflower oil sourced from regenerative farms that prioritize healthy soil. Use code: HOLIDAY10 for 10% off crackers.
Offers valid through December 31st, 2022