New Year's Eve at Santa Monica Proper
Whether it's celebrating with a meal at the beach-inspired Palma lounge and restaurant, or toasting the seaside sunset views from the hotel's Calabra rooftop, Santa Monica Proper is ringing in the new year with a flight of grower Champagnes from Rêveuse.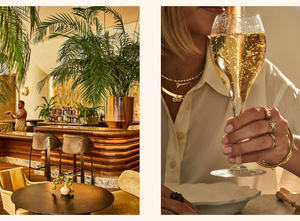 Designed by Kelly Wearstler, Santa Monica Proper stands alone in its creation of casual luxury experiences focused on quality, creativity and wellness.  Thanks to their biodynamic growing practices and limited bottlings, Rêveuse grower Champagnes have an intensity of taste that elevates your senses and makes special occasions more memorable. 
Make a reservation to enjoy our 3 delicious Champagnes and enter the New Year feeling inspired!  

Flight of 3 Rêveuse Champagnes $55