How To Host The Perfect Brunch
Brunch at home is a lovely occasion to host and preparing ahead is key.  For those of you lucky enough to host your mom this Mother's Day - read on and remember to tell your mom how special she is.  Maybe you are hosting the mother of your children, or you have invited someone over who is missing their mom?  Mother's Day can mean different things to all of us, and brunch is always a good idea!
Here are five of my personal tips to elevate the brunch occasion:
Food: Simple and Fresh. 
Whenever I am hosting I focus on the quality of the food over everything else.  Plan your meal ahead and always make a list before you shop for simple and fresh ingredients.  Growing up deep in the suburbs I always loved grocery store cheese, particularly the one with the little apricot pieces, however I now understand the joy of selecting something special from a cheese market and I know your guests will notice the extra effort and taste the difference.   I once served a fruit and yogurt parfait at a brunch I hosted for my sister and the guests were blown away - how did I make this (just berries and yogurt layered in glasses), surely not?  Had I done something special to the parfait?  What I realized is that my guests had not had full fat, full cream good quality yogurt before!  So keep it simple and wow your guests with the best quality food your budget allows.
Perhaps start with a fruit and yogurt parfait, followed by perfectly boiled eggs, bagels and spreads topped with finely sliced salmon, red onion and dill.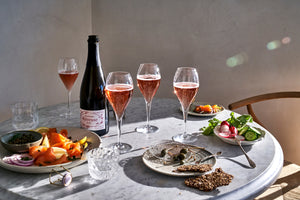 Decorations: Quality Over Theming
From a sustainability perspective we stay away from the instagram trend of over-theming with disposable items and prefer to invest in quality pieces you can keep and
reuse.  A beautiful linen tablecloth and napkins can last a lifetime - some of our favorites are Cultiver in sky or I love Linen in sage.
Beverages To Start
As Australians it is part of our culture to offer beverages when guests arrive at your home.  It is a welcoming ritual and an acknowledgment of the effort guests have made to travel to see you. Whether it is a cup of tea, a glass of water or a wine - not one thing takes place, not a word is spoken until your guest has a drink in their hand.  For brunch we recommend having glasses out before your guests arrive along with some Champagne in an ice bucket.  Also having freshly brewed tea or coffee prepared beforehand is a great idea.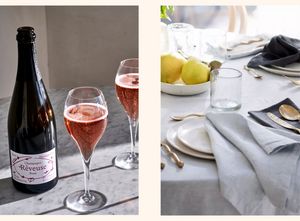 Ambience
If your table is laid before you start prepping food you always look prepared whatever time your guests arrive. It sets the scene, helps you feel prepared and is welcoming to guests on arrival. The go-to three for ambience are flowers, a candle and music. A small vase of flowers brings freshness and color, even one candle lit can make all the difference to create a warm and inviting mood, and make sure the TV is off and music is playing in the background before your guests arrive.  
Having Fun
Prepping the food and table setting ahead of time means you can focus on your guests, open some Champagne, and have a really enjoyable time. If you focus on having fun when you host, you will want to do it more often.