Let's Talk Grower Champagne
Rêveuse is certified grower-producer Champagne.  Independent, biodynamic growers farm the grapes and produce the Champagne on their property.  Certified grower producers are known as 'Recoltant Manipulant' which translates to 'farm and make'.   Our grower producer's individual RM certification number is proudly displayed on the lower right side of our label. A stamp of authenticity that Rêveuse Champagne is made by the farmers who grew the grapes.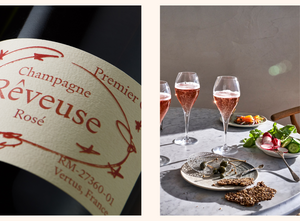 The large Champagne brands are stamped with 'Negotiant Manipulant' meaning 'buy and make', indicating they purchase fruit from third party farms across the Champagne region.  You will notice a small NM certification number on the bottom of big brand labels.  
Just as there's a world of difference between buying your vegetables directly from a farmer and from a big grocery chain, there's a huge gap between the large houses and grower Champagne.  You will taste generations of care for the land and passion for quality in every bottle of Rêveuse grower Champagne.